Ms. Tatiana Guerra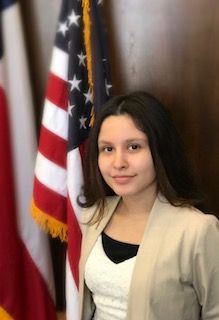 Tatiana Guerra graduated from Alief Elsik High School in the top 10% of her class. She has a certificate of Selection for The National Society of High School Scholars, a Certificate of Excellence, two certificates for Volunteer Service Learning Hours, and many certificates of being in the Honor Roll throughout High School.

Upon graduating, Tatiana was working as an intern at Le Law Group PLLC. She then became a front desk receptionist and handled mostly incoming calls. Having the ability to speak both Spanish and English is extreme helpful to the firm. Additionally, Tatiana always arrived to work early and takes pride in her work. Tatiana's hardworking, friendly, and great working ethics are a few examples that make her a great asset to the firm.

Outside of work, Tatiana participates in church activities. She is part of the church's worship group and youth group. She assists and teaches Friday and Sunday school classes. The classes consist of children from three to seven years old. On her free time, she likes to clean, communicate with friends, sing, and watch movies, especially spending time with her family.